Fr. Vartan Dulgarian passes away
He was looking forward to a century of life. His life ended one year short of that mark. Rev. Father Vartan Dulgarian passed to his eternal rest this evening.
Fr. Vartan was Genocide survivor. He was ordained later in life and served in the Fresno and Los Angeles areas within the Western Diocese. During the last six years he would come to our church in Glendale and was always ready to sing (which he did well at his age) and offer services and prayers. He offered the sermon on several occasions,and always included reflections from his childhood as a Genocide survivor.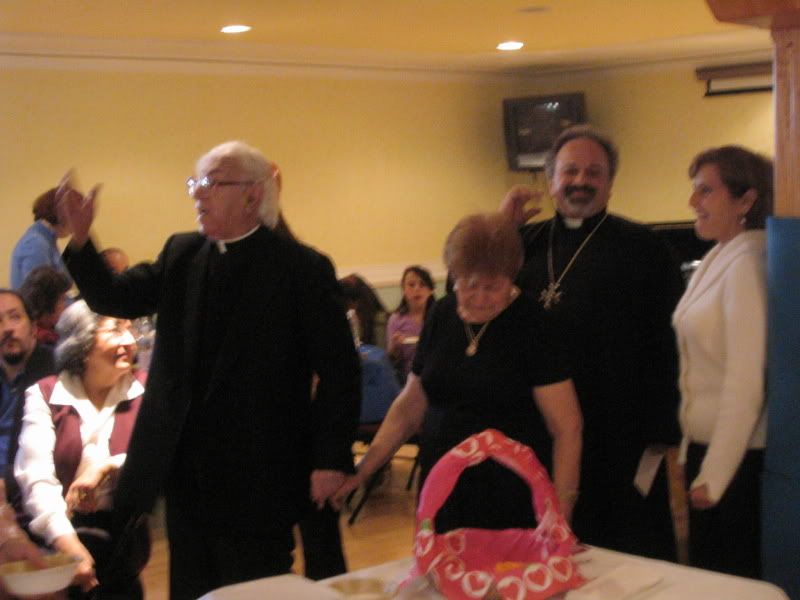 Tonight, just a couple hours before he expired I visited with him. I read the Gospel of St. John, chapter 14 "Do not be afraid – believe in God believe also in me. … I go to prepare a place for you." You could tell in his eyes that the time had come for him to let go.
He leaves behind his daughter Sonia and her husband George.. He was respected in our community. I spoke with His Eminence, Archbishop Hovnan this evening. The final consecration will be at our church and he will be buried next to his yeretzgin in Fresno.
Service Information: Divine Liturgy and Consecration will take place Wednesday, May 6, 2009 at 5:00PM at the St. Peter Armenian Church & Youth Ministries' Center, 632 W. Stocker St., Glendale, CA 91202. His Eminence Archbishop Hovnan Derderian, Primate of the Western Diocese will officiate.
Most people at our church got to know Fr. Vartan late in his life. I've known him for over 40 years, but during the last 6 years he has been a unique "character" – always ready to share a story and reflection on life. His talks were always interlaced with a joke, an anecdote, a deep philosophical thought. He sang in our choir – on pitch and in harmony. Whenever the going got tough in Glendale, I just needed to ask him and he was ready to cover for me at a sacrament or a blessing. He had more energy than people half his age. He loved to write and has penned countless books, articles and essays – during the last few years, many of those were reflections of his life at our church.
The last year was a tough one for him. He slowed down quite a bit. Today his body is at rest after a long and tiring journey, from Genocide, to Egypt, to America all in service to his people.
May God rest the soul of His servant Fr. Vartan.
https://epostle.net/wp-content/uploads/2009/05/IMG_1256.webp
600
800
Vazken Movsesian
https://epostle.net/wp-content/uploads/2022/07/final_logo_large_for_epostle_web-300x189.png
Vazken Movsesian
2009-05-04 15:15:00
2022-09-21 01:45:08
Fr. Vartan Dulgarian passes away